Hosted By: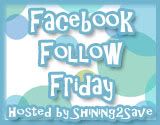 1. Add your Facebook Link, when you add it, it will automatically appear on everyone's page that posts this Linky so you do not need to add it more than once.
2. Click on the Top 3 and like/add them: Please also follow the two people above you if you would like so everyone will get at least a couple new followers. You can leave them a comment letting them know your following from the Friday Facebook Hop.
3. Add/Like as many people on Facebook as you like.
4. You do not have to make a post to join: but it is always a plus if you do so everyone else can see and join in on the fun.